Investing in custom corporate diaries is a great way to grow your business. A branded diary provides a unique marketing opportunity and creates a positive brand association between you and your clients, all while getting your name in the public domain, and into the minds of potential customers.
You may want to design a corporate diary for yourself, your team or as a gift to your valued clients. There are a huge range of options available to make a beautiful, personalized product.
Some things to think about:
What do you want the diary to achieve?
Whether your aim is to bring in new clients, solidify connections with current clients, or increase brand recognition, a diary is a tangible item that puts your brand at the top of your clients' mind.
Who is the diary for?
Corporate diaries can benefit most occupations.
Whether it is hospitality, tradespeople, lawyers, doctors or salespeople, the needs for each occupation will differ, which is why customised diaries are such a versatile tool for employees.
It is important to consider what the person does in their day-to-day life. How will their diary be used? What kind of conditions will the diary be enduring?
Someone in the trades will require a strong, durable diary as they use it several times each day and take it to each job with them. They also may require more open space to create quick sketches when necessary. A lawyer may want an elegant, high-end design, while a business in hospitality would benefit from pages with a lot of writing space to cater for numerous bookings per day.
What will they find useful?
If it is for someone who travels a lot, why not include a pen holder (always handy to have a pen with your diary!) or a ribbon bookmark (perfect to easily flip to the right day!)?
These options will keep anyone organised while on the go, while increasing productivity and efficiency.
For a prospective client, it is a good idea to include your contact details or a clear pocket to display your business card. Putting your contact details in easy reach of a prospective customer increases the chance that they will call you when they need your service.
B2B Digicards found that 63% of people will throw a business card away if they don't see an immediate need for it, however, if it is stored neatly in a diary that is used everyday, the user is likely to keep it there until needed.
Now for the design of your diary…
You can choose how you want your diary to look, including the layout, type of ink, front cover design and custom pages.
These choices provide an opportunity to really customise the diary to the users' needs, making it a hugely valuable business tool.
Page View
The 'Week to a View' layout allows you to view your schedule for the whole week.
'Day to a Page' has allocated time slots for you to jot down meetings or appointments for each hour. This is more suitable for those who are likely to schedule several meetings in a day.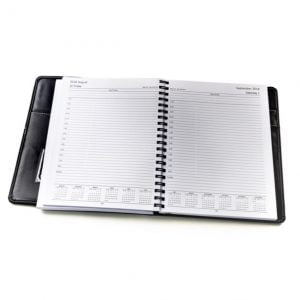 Brand Name and Logo
Whether your diary is going to be a gift to clients, or for employees to use out in the field, having your brand name on the front cover is a great way to increase brand recognition and get your name out there.
To further increase that level of customisation, you could even get the users full name printed on the front cover. This shows that your company has put thought and care into each diary.
Custom pages
Adding custom pages to your diary provides an opportunity to showcase your products, communicate company values or use this space to offer advertising to your suppliers. As you can see below, having custom tabs creates advertising space for company suppliers, creating a great marketing opportunity and helping to offset the cost of your diaries.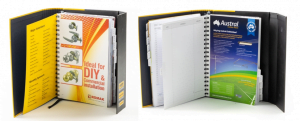 Print
Foil stamping or embossing increases the professionalism of your diary, while drawing attention to your brand name. Foil stamping and embossing creates an affluent and classy diary, which will reflect the ambiance of your company.
Screen printing or digital printing is another popular option to transfer a logo or brand name onto a diary cover. Typically, screen printing is a good option if your logo contains only a few colours, but if you're wanting to print a detailed image then digital print is the best option.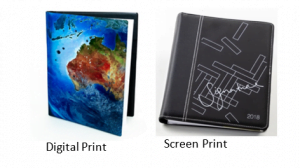 To get some inspiration from our customised diaries, browse here.
In choosing the materials for the cover of your diary, consider how you want your brand to be reflected, and the conditions it will need to withstand.
Sustainable Raw Board diaries are environmentally friendly, which will reflect as a key value of your brand.
Casemade diaries are a presentable yet durable type of diary. They are made out of a high-quality laminate paper glued to a cardboard base. There are no restrictions when designing your Casemade diaries, in terms of colour of text, images and the background colour. Your Casemade diaries can be made to match the exact colour of your brand.
A Polyurethane diary jacket provides a protective cover for your diary, and allows you to add features such as foiling, a pen holder, pockets, or a business card holder. They often include a magnetic closing flap to keep the diary secure and protected.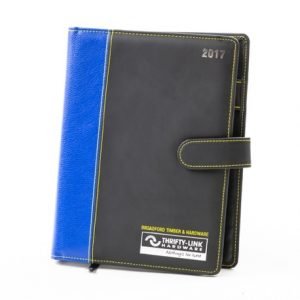 A Polypropylene cover is a carbon neutral, 100% recyclable plastic material that is robust and easy to clean. Many colours are available in polypropylene and you can choose between screen print or digital print on the front cover.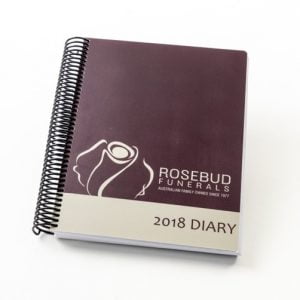 Add a matching notebook
What is better than a customised corporate diary? A matching notebook to go with it of course! Sagamore can produce a customised notebook to accompany your diary gift, making a complete set for your employees or clients.
Here are some more features that you can add to your diary when you order with Sagamore.
There are many benefits to creating a custom diary. Not only will a custom diary display your brand name on the front cover, it allows you to make tweaks that will ensure your diaries get the best possible use out of them, whether it's for yourself, employees or customers. Let us guide you through the decisions that to ensure your diary is perfect for your needs.