COVID-19 has forced many of us to re-think how we conduct business, and one of the main challenges, amongst many, is how to maintain your brand in an environment where we can no longer interact with customers in person.
That's why it is vital to implement strategies that will keep current and potential clients aware of and thinking about your brand.
Here are some ways to keep your brand front of mind while you can't conduct business as usual.
Communicate Online
With face to face communication out the door, social media, your website and email inboxes is where people will be heading to get the low-down on your business.
People will be wondering if you are still operating, what changes have been made to your business and how they can purchase from you.
Maintaining a Facebook page, Instagram business account or LinkedIn page is a great way to share these messages and communicate with customers.
Consider which social media platform suits your brand, and where your customers are likely to go for updates on your business.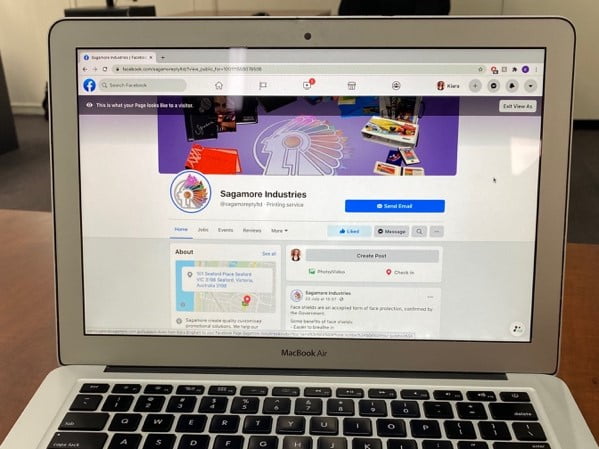 Your website will probably be getting a lot more traffic during COVID-19, especially if you have a physical store that customers can no longer visit, or if you are producing a product that is in demand during the pandemic, such as face masks, face shields or hand sanitiser.
As well as social media, your website is an ideal platform to display important messages.
In terms of email marketing, Campaign Monitor stated that e-newsletters have a higher engagement rate compared to any other type of digital marketing. Emails are a great way to get an important message directly to customers, handy in the midst of a pandemic, so this might be something to implement if you haven't already.
Expand your Knowledge
If business is slowing down, take some time to get educated on how to improve your brand presence. This could involve introducing new marketing strategies, researching the future for industry, as well as updating or creating a social media presence to reach customers while they are staying at home.
There are plenty of online blogs (like this one) that offer unique ways to improve your brand presence that you may not have considered. Promotional stationery is one! A quick google search can make available to you thousands of tools, templates, eBooks, and videos that social media specialists have put online for free. Use them!
According to Marketing Insider Group, social media is essential to your business' success, and we agree!   Social media could potentially save your business, as it allows you to conduct business online, as well as communicating with customers and reminding them that you still exist!
Learn how to take advantage of social media by taking your knowledge beyond the apps. 'Hootsuite' is a great site for scheduling posts ahead of time, 'UberSuggest' can give you content ideas related to your industry, 'Answer The Public' can tell you what people want to know about your products and the app 'Ninjalitics' can give you a better insight to your Instagram analytics, as will 'Facebook Page' for Facebook.
To dig a little deeper, consider completing an online course to expand your knowledge in a relevant area. Google's Skillshop offers a huge range of free short courses about digital marketing, and once completed, you'll earn a certification that will look great on your resume or portfolio.
Researching how your competitors are handling business right now might give you some ideas to implement in your own business. Take note of how they are presenting themselves in front of consumers and see what you can do to improve your own strategies.
Help if you can
People have been coming together in amazing ways during these challenging times, and helping each other is important to our recovery and will help your business stay present. Consider ways that your business could help those in need.
Sagamore has been producing face shields throughout the pandemic, which allowed us to keep all 35 of our staff members employed, as well as being able to help many Australian businesses protect themselves against the virus.
We have also seen some companies who are currently offering promotions to help companies grow their business in a cost-effective manner. Lead Express, who are experts in generating leads and growing sales, have offered a 'Pay What You Can' campaign to support business growth throughout COVID-19, while acknowledging that businesses have constrained budgets at this time. This not only helps business growth but helps Lead Express showcase their capabilities in a cost effective manner.
Putting together care packages for those directly impacted by COVID-19 is a compassionate and helpful way to show those in need that they are not alone.
Supporting each other throughout this time is what will get us all through this. Being there for others generates goodwill. People will remember who was there when things were tough.
Send Promotional Gifts to Clients
While your regular clients may not be able to support you as they usually would, you can still support them by sending them branded promotional products.. This will deliver positive brand association throughout a period where face to face contact is not possible.
The success of promotional products is proven. BB Fulfilment found that 85% of people do business with the advertiser after receiving a promotional item. In addition to this, other benefits include:
1 Provides a great marketing opportunity to grow your brand
2 Creates a positive association between your business, and the recipient of your promo gift
3 Creates a conversation starter for future business deals
4 Provides a functional, useful tool that will increase efficiency and productivity
We discuss these points in further detail in our blog outlining how effective custom diaries are as a corporate gift!
Sagamore Industries are experts in creating high-quality custom promotional stationery. Our products have been proven to help maintain brands to keep your business front of mind with new and prospective customers, providing a high quality product that will add value to any workspace.
To chat with one of our team members about the results you can achieve with Sagamore's promotional stationery, call us on (03) 9786 4399 or contact sales@sagamore.com.au.