Hot stamping is a printing technique to customise promotional stationery. It increases the luxury factor on items such as diary covers, presentation folders, ring binders and business cards. Instead of using ink to transfer a design onto your product, it uses metallic foil or embossing to create a stunning, eye catching effect.
When making the best decision for your customised stationery it's helpful to know the basics.
Foil Stamping                            
This method involves printing the foil directly onto the surface. It does not emboss the foil into the material, therefore the surface remains flat. At Sagamore, we offer gold, silver, copper and a range of other metallic colours to coordinate your stationery to your company colours.
Foil Embossing                    
Foil embossing creates an indentation by compressing the foil design into the material. This has a more textured feel as it impresses into the surface of the design so it has some depth.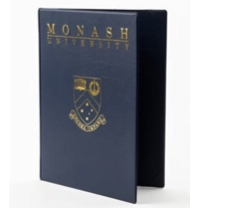 Blind Embossing                    
Blind embossing involves creating an imprint into the material, so the design is slightly impressed into the material. There is no foil involved. 'Debossing' is when the design is raised from the surface, instead of imprinted.
Designs that tend to produce the best results when foiled or embossed are text, logos and simple patterns. Embossing adds a 3D aspect to a 2D image; therefore, simple designs work better and will avoid an image becoming distorted. For larger designs, allow for a deeper emboss. At Sagamore Industries, some popular choices of material to hot stamp on are PVC and polyurethane, which are commonly used to create ring binders, custom presentation folders or client diaries.
Foil stamping produces a product that looks extremely high-end and prestigious. Before receiving your order in full, Sagamore can offer you a sample so you can be sure you are completely satisfied with your product.
Sagamore Industries' specialises in foil stamping, foil embossing and blind embossing, to take your custom printed stationery to the next level. If you are looking to use hot stamping to create custom diaries, presentation folders, or other promotional stationery items, then Sagamore will help you create some beautiful products to develop your brand and grow your revenue.
To discuss the many options available to you, please don't hesitate to contact us on (03)9786 4399 or enquire online at Sagamore.com.au.